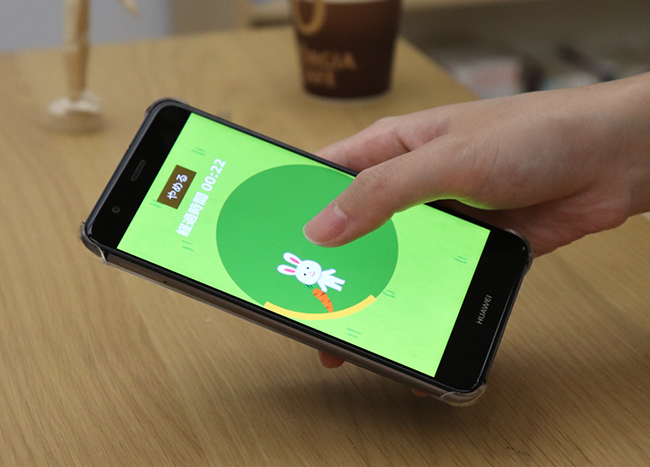 Rehabilitation support system for patients with Carpal Tunnel Syndrome using smartphone. © Yuta Sugiura, Keio University
You can learn more about someone in an hour of play than in a year of conversation, or so the saying goes. It turns out you can learn a good deal about a person's nerve health too. Researchers at Tokyo Medical and Dental University and Keio University in Japan have now developed a game app that screens for the most common form of nerve damage outside the brain and spinal cord, allowing for effective early intervention.

Carpal tunnel syndrome (CTS) affects 5¬-10% of women. It arises when a nerve running through the wrist and hand is compressed, causing numbness in the initial stages before muscle atrophy sets in and movement in the thumb is lost.

"Patients tend to delay seeing a doctor until the numbness worsens," point out Koji Fujita, Takuro Watanabe, Yuta Sugiura, and their collaborators in a recent paper. As is often the case, early intervention is most effective. However, since few patients seek medical advice until muscle atrophy has already set in, the condition is usually in its later stages before it is diagnosed. Now the Keio team has developed and tested an app that can be used on any tablet device, and may help diagnose the condition during the preliminary stages when it is more easily treatable.

Treatments for CTS in the initial stages can be as simple as a night splint or anti-inflammatory injections. While some patients may still undergo surgical intervention at this stage, the rate of success is higher. Once the condition reaches an advanced stage, however, carpal tunnel release surgery is the only treatment option, and it can take over a year before the muscle recovers and full thumb and hand movement is restored.

There are some simple, commonly used tests for CTS, such as tapping along the median nerve that runs through the carpal tunnel (Tinel's sign) or pressing the backs of the hands together to force the wrists to flex (Phalan manoeuvre). However, the sensitivity and specificity of these tests are very low, while more accurate electrophysiological tests require expensive equipment and a skilled technician, which are not usually available to patients.

With this in mind, Sugiura's team produced a game that people can play to screen for CTS without any medical intervention. Using an attachment that fastens on to the tablet to hold the fingers in place, players slide an illustration of a thumb around the screen with their own thumbs, providing a gauge of how much mobility they have.

The researchers trialled the app on a cohort of 22 female CTS patients (several patients tried both hands, leading to a total of 29 hands being tested) as well as 11 control female volunteers who do not have CTS (using only one hand each). Only those without other conditions or injuries that could affect their hands took part. Trials with the app detected CTS with 93% sensitivity compared to 62% using the Tinel sign, and 90% positive predictive value compared to 79% for the Phalan manoeuvre.

"Outside of the clinic, this app might be able to detect middle-to-severe-stage CTS and could prompt these patients to visit hand surgery specialists," conclude the researchers.


A participant using the app. All four fingers are kept stationary using the holder. As the patient touches the orange circle with their thumb, the thumb illustration appears enabling them to start the game. © Yuta Sugiura, Keio University
Published online 27 February 2020
About the researcher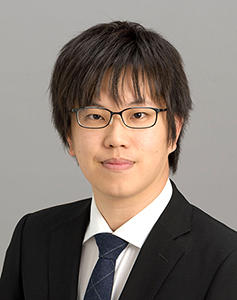 Yuta Sugiura
― Assistant Professor
Department of Information and Computer Science
,
Faculty of Science and Technology
Yuta Sugiura is an Assistant Professor of the Information and Computer Science Department at Keio University. Before joining Keio, he worked as a post-doctoral researcher at the National Institute of Advanced Industrial Science and Technology (2015-2016). He received a Ph.D. from the Graduate School of Media Design at Keio University in 2013. His research interests include user interfaces and ubiquitous computing. He has received several awards including the JSPS Prize, UIST Best Talk Award, and the Good Design Award. He has served as a program committee member for various international conferences including ACM UIST, TEI, and SIGGRAPH ASIA E-tech.
Links
Reference
Koji Fujita, Takuro Watanabe, Tomoyuki Kuroiwa, Toru Sasaki, Akimoto Nimura and Yuta Sugiura. A Tablet-Based App for Carpal Tunnel Syndrome Screening: Diagnostic Case-Control Study, JMIR mHealth uHealth, 7, e14172 (2019). | article