A study on mice and humans unlocks new insight in the molecular mechanism behind rhabdomyolysis-induced acute kidney injury
Published online 29 November 2018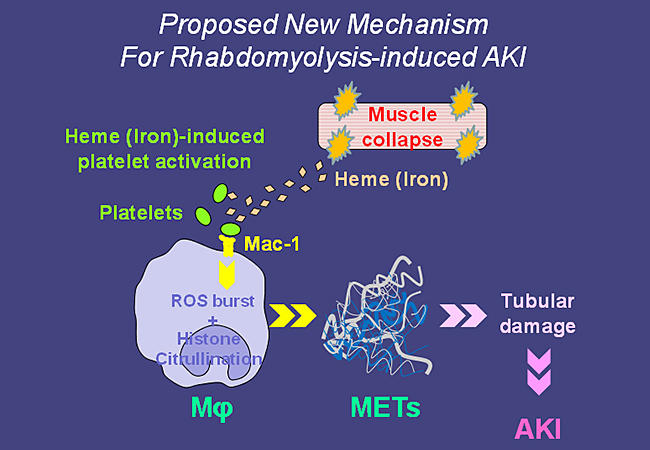 A Proposed New Mechanism For Rhabdomyolysis-induced AKI © Keio University
Rhabdomyolysis is a syndrome caused by muscle injury: damaged skeletal muscles break down and release myoglobin (a protein that stores oxygen in muscles) in the bloodstream. This can lead to kidney damage and acute kidney injury (AKI), a life-threatening condition. Different types of muscle injuries can lead to rhabdomyolysis, including excessive exertion during sports, lack of oxygen in the muscle, medications and drug abuse, as well as injuries sustained in natural disasters or wars.
The molecular mechanism underlying rhabdomyolysis-induced AKI is still largely unknown. There is strong evidence that myoglobin and heme (a molecule containing an iron ion) released from the necrotic muscle cells and reactive oxygen species play a role, as does the infiltration of macrophages in the kidneys.
Now, writing in Nature Medicine, Junichi Hirahashi from the Keio University School of Medicine and colleagues put forward a new hypothesis for the mechanism: the released heme activates platelets that interact with macrophage antigen-1 (Mac-1, a receptor) and induces the generation of reactive oxygen species, histone citrullination, and the resulting release of macrophage extracellular traps (METs) ― an immune response normally aimed at immobilizing and killing microorganisms. The METs damage tubules and promote AKI. It is the first time METs have been demonstrated to contribute to the pathogenesis of a disease.
The authors started by studying a mouse model of rhabdomyolysis. They verified the presence of METs in the kidneys, linking it to increased tubular damage, and observed that extracellular traps are present in the blood of mice with rhabdomyolysis-induced AKI, but not in that of the control group. Macrophages and platelets clearly play a role, as depleting those cell types inhibits renal injury. The importance of Mac-1 in the disease is highlighted by the observation that mice not expressing it show a renal function similar to that of healthy mice, even though they exhibit evident muscle degradation; METs are reduced or absent in this case. Moving on to humans, the authors found evidence supporting the hypothesis that METs are responsible for rhabdomyolysis-induced AKI.
A treatment that reduces the formation of platelet-induced METs in vitro markedly prevented renal damage in mice. "Early volume-repletion and renal-replacement therapies have been established for rhabdomyolysis-induced AKI; however, the delivery of medical supplies is often not feasible shortly after disasters", write the authors. "Our results suggest that inhibitors of Mac-1 and/or direct inhibitors of METs [...] might be new therapeutic strategies for the prevention of platelet-mediated MET formation and associated renal tubule injury in rhabdomyolysis-induced AKI."
About the researcher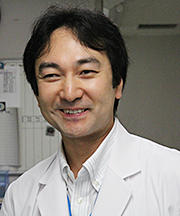 Junichi Hirahashi
― Assistant Professor
Center for General Medicine Education, Keio University School of Medicine
Junichi Hirahashi was born in Kumamoto, Japan, in 1967. He got his MD in 1993 and PhD in 1997, both from Keio University. He conducted basic research as a postdoctoral fellow at Harvard University in Boston from 2001 to 2004. He returned to Japan in 2004 and worked for Tokyo University Hospital from 2004 to 2013. Since 2014, he has been working at Keio University as a physician-scientist. His research interests focus on inflammation-induced vascular injury and development of a new therapeutic agent targeting autoimmune diseases.
Links
Reference
Koshu Okubo, Miho Kurosawa, Mako Kamiya, Yasuteru Urano, Akari Suzuki, Kazuhiko Yamamoto, Koji Hase, Koichiro Homma, Junichi Sasaki, Hiroaki Miyauchi, Tatsuo Hoshino, Matsuhiko Hayashi, Tanya N Mayadas & Junichi Hirahashi, Macrophage extracellular trap formation promoted by platelet activation is a key mediator of rhabdomyolysis-induced acute kidney injury. Nature Medicine, 24, 232-238 (2018) | article