Advances in iPS cell-based therapy for treatment of hereditary hearing loss
Published online 28 September 2018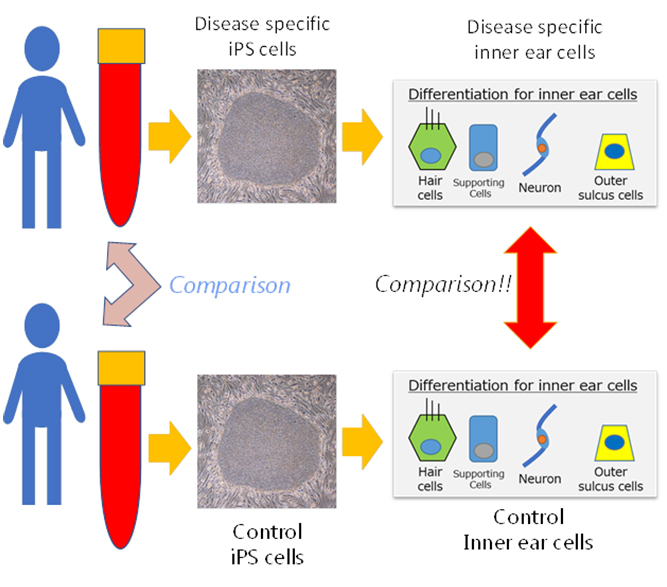 Trials on 16 people will yield 4,800 sets of data, and 14,400 measurement results--a significant amount of "big-data." The point is that all 16 patients being monitored are limited to the mutations of the same gene, and "several different mutations in one single gene will be included in our trials," says Fujioka. There are expected to be individual differences, but it is a homogeneous population compared to Ménière's disease and senile deafness. It is expected to be an ideal group to create prototypes of analysis algorithms.
"I hope that this IoT clinical trial system can become a prototype for future clinical trials for inner ear disorders, as well as a health management tool for a wide range of users handling easy to use equipment that is not necessarily medical devices used in hospitals."
 
About the researchers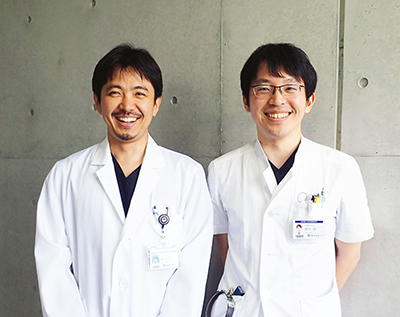 Masato Fujioka
― Assistant Professor (left)

and Makoto Hosoya

― Research Associate

Department of Otorhinolaryngology, Head and Neck Surgery, Keio University School of Medicine.

Masato Fujioka received his M.D. and Ph.D. in otorhinolaryngology in 2002 and 2006, respectively, from Keio University. From 2006 to 2009 he was a senior research fellow at the Department of Otology and Laryngology, Harvard Medical School and worked at the Eaton-Peabody Laboratory, Massachusetts Eye and Ear Infirmary. From 2009 to 2015 he was an instructor at the Department of Otorhinolaryngology Head and Neck Surgery, Keio University School of Medicine. Between 2011 and 2013 he worked at Keiyu Hospital, Yokohama, as an attending doctor in ENT. He was appointed assistant professor at Keio University in 2016.

His research covers from basic science to translational research in the field of auditory and/or vestibular systems. Specific research topics include autoimmunity, inflammation, regeneration and stem cell biology. He is the principal investigator of a clinical trial of iPSC-based drug development for rare intractable genetic hearing loss Pendred syndrome/DFNB4.

- Awards -

10th. International Society for Stem Cell Research

Young Investigator Award, Keio University School of Medicine Alumni Association

14th. Harold F. Schuknecht Travel Award


Makoto Hosoya received his M.D. and Ph.D. in 2010 and 2017, respectively, From 2017 he belongs to the Department of Otorhinolaryngology, Head and Neck surgery, Keio University School of Medicine.

His research interests cover stem cell technology, hearing regeneration and mechanisms of hereditary hearing loss. Specific aims are to clarify mechanisms underlying hearing regeneration and species differences underlying the genetic hearing loss.
References
Makoto Hosoya, Masato Fujioka, Takefumi Sone, Satoshi Okamoto, Wado Akamatsu, Hideki Ukai, Hiroki R. Ueda, Kaoru Ogawa, Tatsuo Matsunaga, and Hideyuki Okano, "Cochlear Cell Modeling Using Disease-Specific iPSCs Unveils a Degenerative Phenotype and Suggests Treatments for Congenital Progressive Hearing Loss", Cell Reports, 18, P68-81, January 03, 2017. | article