Drug cuts the supply lines to brain tumors but doesn't eliminate cancer stem cells, which could explain resistance to the drug
Published online 31 August 2017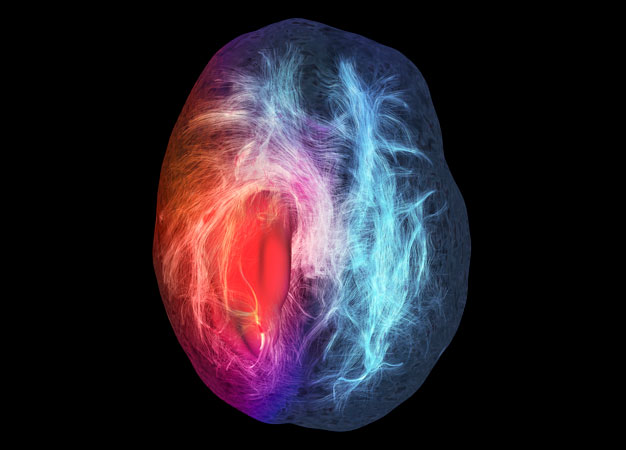 When given to patients newly diagnosed with aggressive brain cancer, the drug bevacizumab reduces the density of blood vessels in tumors but shunts cancer stem cells to areas where blood vessels are still functioning normally, find Keio researchers. This discovery, from a first-of-its-kind investigation of bevacizumab's microscopic effects, should help cancer researchers better understand the mechanisms of resistance to the drug and so design combination strategies that promote patient survival.
Sold under the brand name Avastin, bevacizumab works by blocking a protein involved in the formation of new blood vessels, thereby choking off the blood supply that normally fuels the growth and spread of cancer cells. The drug is approved in many parts of the world for patients whose glioblastoma brain tumors have returned after initial treatment. In Japan, it is also available as a front-line therapy.
In clinical studies, bevacizumab has been shown to delay tumor growth and improve patient function. However, the drug did not extend patients' lives. When the cancer recurred after treatment, it tended to come back with a vengeance ― and now Hikaru Sasaki and Ryota Tamura, neurosurgeons at the Keio University School of Medicine, have an idea why that is.
Sasaki, Tamura and their colleagues collected tumor samples from six patients with glioblastomas who underwent surgery shortly after treatment with bevacizumab. They also analyzed tumor samples from eleven patients who did not receive the drug. Across the treated tumors, the researchers saw that bevacizumab dramatically affected blood vessels: they became less dense; they no longer proliferated; and oxygen levels recovered1. In a separate study, Sasaki and his team also found that blood vessel congestion might be involved2.
However, the therapy never completely wiped out the cancer stem cells that seeded the recurrence of the disease. While it did eliminate one of the places where cancer stem cells are often found, when the researchers looked for nestin, a protein that indicates the presence of cancer stem cells, they found it clustered around the remaining blood vessels in a spot called the perivascular niche.
"Combination therapies that target the perivascular niche might be a rational approach to treat glioblastomas more efficiently," says Sasaki, noting that the persistence of cancer stem cells "might constitute one of the mechanisms of resistance to bevacizumab."
Sasaki and his colleagues are currently running a prospective trial to clarify the mechanisms of resistance and to identify biomarkers that might predict likely responders to bevacizumab.
References
Tamura, R., Tanaka, T., Miyake, K., Tabei, Y., Ohara, K. et al. Histopathological investigation of glioblastomas resected under bevacizumab treatment. Oncotarget 7, 52423-52435 (2016). | article
Tokuda, Y., Tamura, R., Ohara, K., Yoshida, K. & Sasaki, H. A case of glioblastoma resected immediately after administering bevacizumab: consideration on histopathological findings and safety of surgery. Brain Tumor Pathology 34, 98-102 (2017). | article
Related links
This article was made for Keio University by Nature Research Custom Media, part of Springer Nature.