'Stuck' brain cells in extremely premature babies lead to impairment in later life
Published online 27 July 2017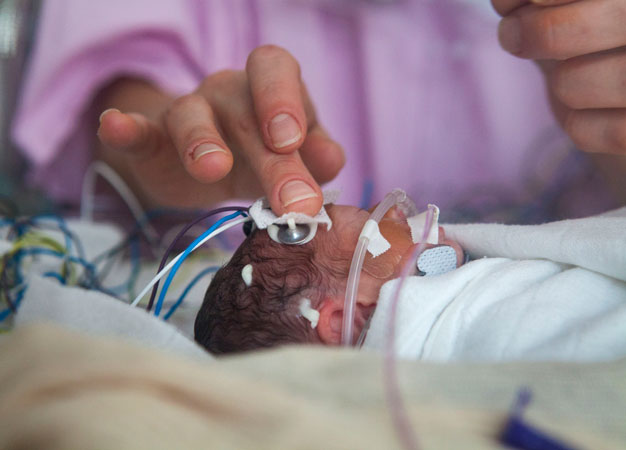 Up to half of babies born before 28 weeks develop significant difficulties later in life: attention deficit hyperactivity disorder, autism, and other developmental disorders. Keio researchers have discovered that such problems occur because neurons in the developing brain never complete their journey to the outer regions of the brain1.
Extremely preterm births (those before 28 weeks) are on the rise, but no-one knows why. "Improved medical care increases survival, but the prevalence of preterm babies [in ratio to normal-term births] is increasing. It's a big problem," says Ken-ichiro Kubo of Keio University. "We're now discovering the impact of extremely preterm birth. The first of these babies are now in their teens or early twenties ― go back further than this and these children simply didn't survive."
Separated from the umbilical cord, extremely preterm babies do not have the functional lungs or circulatory system they need to supply their brains with oxygen and blood, hampering brain development at a critical stage. It is this, rather than the early birth, that often causes issues.
Leading a team of 27 researchers in Japan and the United States, Kubo and his colleague Kimiko Deguchi hypothesized that this brain damage is caused by the impairment of 'neuronal migration'. In this process, neurons in the growing brain are produced in the innermost part of the brain and then migrate outward through the white matter to the gray matter at the brain's extremities. "Neuronal migration is an essential, early stage of development in mammalian brains," explains Kubo. "It needs to happen. Cells can't just pile up in the middle of the brain; they need to move to the brain's surface for the brain to be correctly wired and function appropriately."
The team studied brain samples of infants born before 28 weeks and found that significant amounts of neurons, frozen in time, never reached their destination ― the cells were 'stuck' mid-migration. "The process apparently hasn't been completed in these cases," says Kubo.
To validate this suspicion, the team created a 'model' of this brain injury using mice. Having developed in the womb under a period of blood starvation, their mice exhibited the same learning difficulties as their human counterparts ― failing to distinguish a novel object from one they had previously been exposed to. Examination revealed that these mice too exhibited incomplete neuronal migration. "Our mice model really mimics the disease presentation in humans," says Kubo.
Kubo and his team intend to research neuronal communication with a view to rescuing the development of children already living with affected brains.
Reference
1. Kubo, K. et al. Association of impaired neuronal migration with cognitive deficits in extremely preterm infants. JCI Insight 2, e88609 (2017). | article
Related links
This article was made for Keio University by Nature Research Custom Media, part of Springer Nature.