Japan-wide study shows a widely used heart drug does not improve bypass results
Published online 30 March 2017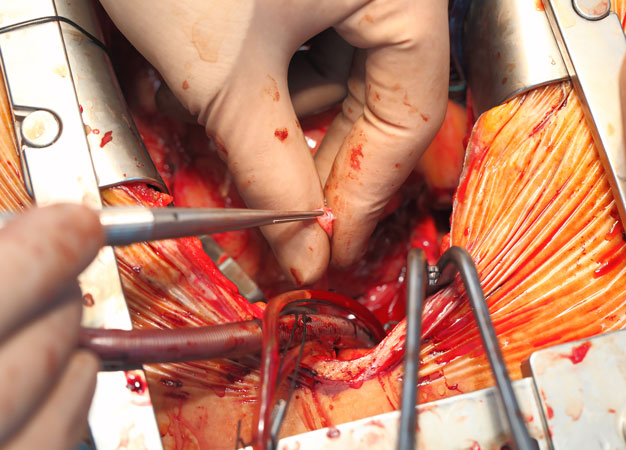 A class of drugs traditionally used to protect the heart from disease may have no effect on cardiovascular surgical outcomes, according to a study by Keio University researchers1.
The drugs, known as beta-blockers, are among the most widely prescribed medications for controlling high blood pressure, and were recognized as being "cardioprotective" under surgical conditions, says Shun Kohsaka, from Keio University's Department of Cardiology.
This is because the drug causes the heart to beat slower and to contract with less force, Kohsaka says.
"When heart rates are lower the oxygen consumption within the heart is kept low," says Kohsaka. Theoretically, this would allow the heart to tolerate a longer period under stress if any problems occur during surgery.
However, he says, in recent years there has been growing debate around the use of beta-blockers for bypass operations, which involve routing blood through healthy arteries.
Recent studies have suggested beta-blockers have little effect on short-term, post-operative mortality and in some cases were shown to push the heart rate or blood pressure too low.
To investigate this, Kohsaka and colleagues analyzed 34,980 cases of coronary bypass surgery undertaken in Japan between January 2008 and December 2011.
The data, from the Japan Cardiovascular Surgical Database, involved 333 centers, accounting for almost 74 per cent of sites performing open-heart bypass surgeries in the country. The average age of patients was 68 years, with women comprising one-fifth of the patients.
Beta-blockers were used in 10,496 patients ― around 30 per cent of cases. Patients receiving the drugs were slightly younger, but more likely to have other risk factors such as diabetes.
The researchers used rigorous statistical modeling to compare outcomes for patients undergoing the surgery with and without beta-blockers. This modeling was then extended to isolate sub-groups that included low- and high-risk patients and those known to have left ventricular dysfunction.
The study found no major benefit in beta-blocker use under any of the analyses they performed ― confirming recent findings of studies in the West.
Kohsaka says because East Asians are known to be genetically sensitive to beta-blockers, any effect should be more marked in his cohort. "Within beta-blocker-sensitive patients we would assume beta-blockers work very well, but in this study we do not see any benefits," says Kohsaka.
"No matter which ethnic group you are in or what type of beta-blockers you prescribe, it does not seem to show any benefit, retrospectively."
Kohsaka is now looking at using the same approach to investigate the use of statins and aspirin in cardiac patients.
Reference
Kohsaka, S. et al. Effects of preoperative β-blocker use on clinical outcomes after coronary artery bypass grafting: A report from the Japanese cardiovascular surgery database. Anesthesiology 55, 45-55 (2016). | article
Related links