Keio University Global Research Institute launches an international mission to help society through interdisciplinary research
Published online 27 January 2017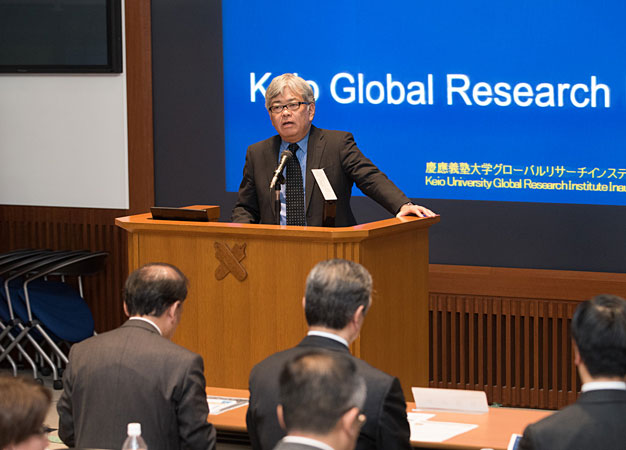 Keio University Global Research Institute (KGRI) was founded in November 2016 to address the challenges facing Japan and the rest of the world in an era of political, social, and environmental transformation.
Established in a year of significant global change, the institute aims to contribute to the modern world through interdisciplinary collaborations between Keio University and global partners in industry, academia, and government.
By encouraging researchers from diverse disciplines and cultures to share their work and perspectives, the center will foster new connections between people and link their ideas. The institute represents an acceleration of Keio University's globalization and will further its already valuable contributions to society.
Learning from Japan
Keio, Japan's oldest private institution of higher learning, was among 13 top-tier academic institutions chosen in 2014 by the Japanese government to be part of the Top Global University Project, a funding program designed to enhance the international competitiveness of Japan's leading schools.
As part of the initiative, Keio is committed to enhancing the sustainability of global society through jitsugaku (science), as a natural continuation of the philosophy of Keio's founder, Yukichi Fukuzawa. Keio University president, Atsushi Seike, identified three key areas of research on which it would focus: longevity, security, and creativity.
These comprehensive research initiatives are pertinent to the current situation in which Japan finds itself in the 21st century. With a rapidly aging population and declining birthrate, longevity is at the forefront of Japan's agenda. The nuclear accident in Fukushima is evidence of the danger of increasing risks to environmental, economic, and regional security. And Japan faces a rising demand for innovation to maintain global competitiveness.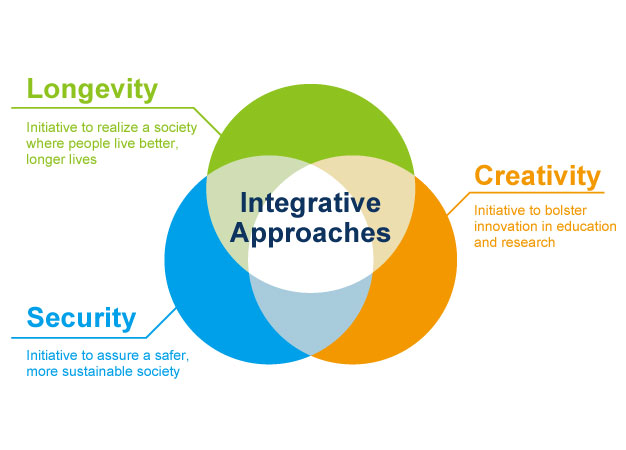 "The Top Global University Project has been at the center of Keio University's strategy over the last three years," says Jiro Kokuryo, vice-president for international affairs. Among the many changes it has introduced have been institutional reforms to extend Keio's reach through cross-appointments, assignments of international staff in tenure track positions, and expansion of the English-language syllabus.
The KGRI represents the next stage of this strategy, providing platforms to promote, foster, and support current research projects. "The proliferation of efforts has made us aware of the need for a central program to integrate the various programs and maximize output. KGRI is our response to these needs. I hope it will contribute to providing effective solutions to the issues encountered by society."
Giant steps
KGRI will have three major missions: actualizing research through funding, making research more visible through effective publicity, and exploring new forms of interdisciplinary research.
Keigo Komamura, Keio University vice-president and director of KGRI, explains that the institute will have a loose, decentralized structure that will promote free-flowing exchanges between researchers. It will be an open platform, going beyond traditional working styles to connect academia with business, government, and international initiatives.
"The institute is destined to be a growing and unfinished project and that's why it has no fixed form."
Komamura particularly welcomes "idle talk" between researchers because it can lead to great discoveries. "I hope KGRI will become a trigger for change," he says.
At the inaugural KGRI symposium in December 2016, two commemorative lectures provided a glimpse of the kinds of research that KGRI will encompass.
"Economic integration and uncertainty define the world," said Huang Jing, director of the Centre on Asia and Globalisation at the Lee Kuan Yew School of Public Policy, National University of Singapore, who described a changing economic, social, and political landscape fueling global insecurity in the 21st century.
"We need to do global research to find out why we are having these problems," he said. "We are human beings and we see facts from different perspectives and we have different opinions about the same truth. That's why we need communication and thorough international, global research projects to help us to understand each other better. We have to build networks of researchers on platforms provided by institutions such as KGRI."
The need for international dialogue on research was echoed by Thibaut David of Grenoble Innovation for Advanced New Technologies (GIANT), one of the principal research centers in France. David, a scientific program coordinator at the French Alternative Energies and Atomic Energy Commission (CEA), gave a briefing about GIANT, a center in the French Alps that groups roughly 30,000 people from academia, industry, and research labs.
David emphasized the relationship between Keio University, CEA and the French National Center for Scientific Research, which signed a five-year collaboration agreement in 2014. Keio and GIANT have engaged in student and researcher exchanges in such fields as microfluidics, the Internet of Things, cyber-physical systems, and nanotechnologies.
"We are focused on people who share the same vision as us but who come from a different culture," David said. "The goal is really to be stronger."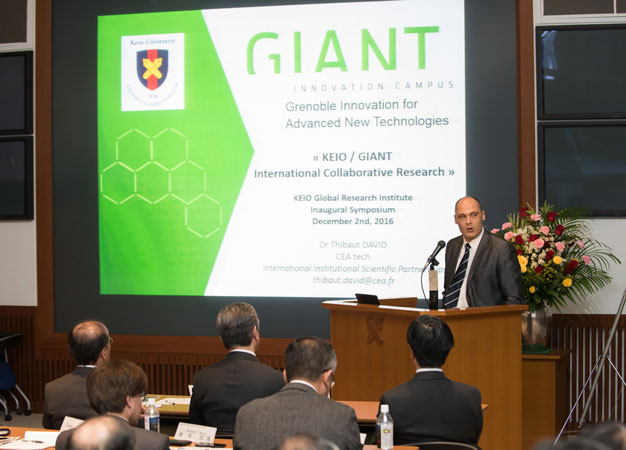 Keio's three global initiatives
The world has much to learn from how Japan deals with the global challenges being tackled by KGRI's three research initiatives. Considering aged-studies, more than a quarter of Japan's population is 65 years or older and other countries are quickly joining the 'super-aged' bandwagon. Finland, Germany, Italy, Bulgaria, Portugal, Sweden, and Greece all have an elderly population of 20% or higher, lifting the global average of people in this bracket to 8%.
"Aging is not a unique issue to Japan ― it's an issue for the entire world," says Hideyuki Okano, professor and dean of the Keio University School of Medicine, who leads KGRI's longevity initiative. "We aim for initiatives to realize a society where people live better and longer lives."
In one example, Keio researchers are gaining ground in tackling the growing incidence of dementia in Japan. The social cost of the disease has been estimated at ¥14.5 trillion per year, or 3% of GDP, a ratio that is expected to increase as the population ages. Early diagnosis and intervention can reduce those figures, and Keio researchers are exploring the role of nicotinamide adenine dinucleotide (NAD), a naturally produced anti-aging molecule. A precursor substance has been used in a clinical study to examine its safety and effectiveness in humans.
Another important part of Keio's focus on aging is the Center for Supercentenarian Medical Research, which brings researchers and clinicians together to better meet the needs of elderly patients. The center collects and analyses data from multiple surveys of centenarians to develop preventative care measures.
In the area of security, Keio covers a broad range of domestic and international issues including military tensions, climate change, and natural disasters. These include an analysis of the mass media's coverage of Japan in the aftermath of the Fukushima nuclear disaster, particularly its discussion of risk related to nuclear power technologies.
"I believe that this security initiative project will contribute not only to academic research, but also to policy and practice," says law professor Yutaka Oishi, leader of the security initiative.
The creativity initiative, led by Tojiro Aoyama, includes projects such as multilingual search tools for social scientists that can be used to access data accumulated in various countries and languages, as well as vaccine adjuvants that use near-infrared laser light to prompt a more robust immune response.
Another project in the realm of creativity is the adaptation of brain scanning technology to measure electrical activity in the brain associated with mental states like enjoyment, interest, stress, concentration, and calm. The Kansei Analyzer has been commercialized for testing people's responses to new products.
By fostering this kind of interdisciplinary research, KGRI will bind the many threads of investigation at Keio into a whole, says Komamura. "KGRI will be a kind of tapestry," he says, "into which we will interweave many research projects."
Related links
This article was made for Keio University by Nature Research Custom Media, part of Springer Nature.