Physics
Planetary science
Atmospheric science
Waves of air create cold regions around the poles of our nearest planetary neighbor
Published online 28 April 2016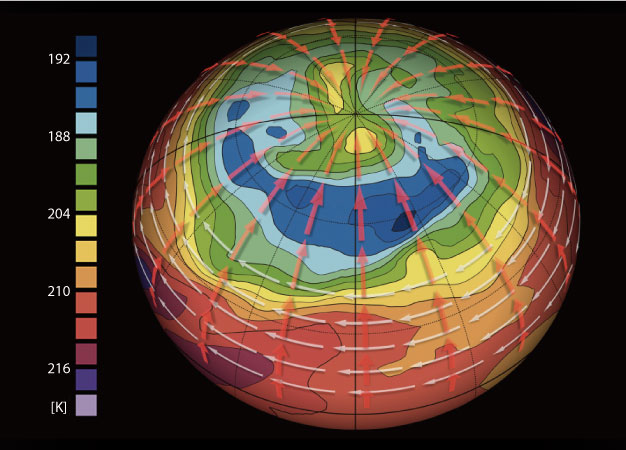 A detailed simulation of the Venusian atmosphere created by a team of researchers in Japan explains, for the first time, some of its mysterious features1.
The winds that swirl around the poles of planets are called polar vortices. On Earth, the polar vortex is colder than the air at mid-latitudes. But Venus has a relatively warm polar vortex surrounded by a 'cold collar', a band of cooler air at around 60 degrees latitude. Moreover, the clouds above Venus's south pole are thicker than in its cold collar, and the air there is rich in carbon monoxide. Many studies have observed these features, but none have been able to explain how they form.
Norihiko Sugimoto of Keio University's Research and Education Center for Natural Sciences and colleagues have adapted a model of Earth's atmosphere to reproduce these features on Venus and reveal the underlying causes. While similar in size to Earth, Venus has a noxious atmosphere of dense carbon dioxide and sulfuric acid clouds.
The model showed that the cold collar was formed partly by the flow of air from equator to poles ― known as meridional circulation ― but was intensified by the thermal tide, a large wave of air driven by heat from the Sun. The thermal tide is most significant at cloud level, between altitudes of 50 and 70 kilometers, where most of the solar flux on Venus is absorbed. It can generate winds of 360 kilometers per hour at the cloud tops.
In the simulations, these atmospheric circulations caused a cold collar to appear around 60 degrees latitude at an altitude of 68 kilometers; its air was about -77 degrees Celsius, some 10-20 degrees cooler than at the north pole (see image and video). And at an altitude of 75 kilometers, the polar air temperature varied from -81 to -57 degrees Celsius, up to 40 degrees warmer than at 30 degrees latitude. Crucially, the simulation only matched observations when it featured the effects of the thermal tide. "We've reproduced these features for the first time in a general circulation model," says Sugimoto. "This makes it the best model of Venus's atmosphere so far."
The air currents and temperature patterns in the simulation also suggest how the south pole might accumulate more carbon monoxide and thicker clouds through photochemical reactions.
Japan's Venus Climate Orbiter 'Akatsuki' is currently circling Venus, and the team plans to use the probe's high-resolution observations to improve their simulation. They also hope to use their model to propose future observations for Akatsuki.
Reference
Ando, H., Sugimoto, N., Takagi, M., Kashimura, H., Imamura, T. and Matsuda, Y. The puzzling Venusian polar atmospheric structure reproduced by a general circulation model. Nature Communications 7, 10398 (2016). | article
Related links
This article was made for Keio University by Nature Research Custom Media, part of Springer Nature.