Keio researchers are applying information technology to capture and spread the agricultural wisdom of Japan's aging farmers
Published online 9 July 2015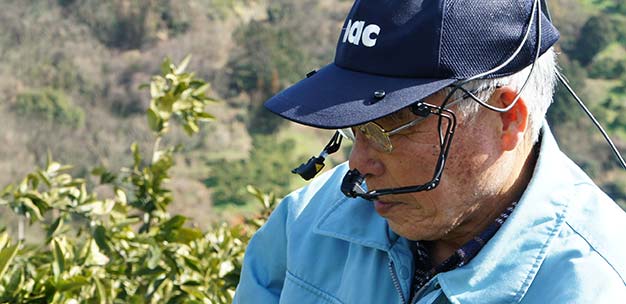 Computer scientist Atsushi Shinjo is using modern technology to gather and disperse the accumulated wisdom of Japan's expert farmers thanks to an encounter in 2009 with prize-winning tomato farmer Yutaka Ooyama from Tochigi Prefecture, a few hours' drive north of Tokyo. "I watched Ooyama as he inspected his tomatoes and found differences between his viewpoints and those of novice farmers," says Shinjo. This observation inspired Shinjo to establish the Agri-infoscience Laboratory at Keio University's Shonan Fujisawa Campus, an institution dedicated to maintaining "a balance between the latest technology and the rich natural environment."
Old wisdom
The seeds of Shinjo's initiative were actually sown years earlier in conversations with his grandfather, a vegetable farmer. "My grandfather would ask his vegetables how much water they needed," Shinjo recalls. Of course, the vegetables could not respond, but Shinjo remembers that his grandfather evaluated the condition of his plants in a very similar way to Ooyama.
Japanese farmers are some of the most productive and efficient in the world, but this admirable status is under threat because the most experienced farmers are aging fast. In terms of calories per acre, Japanese agricultural output is almost ten times greater than that in the United States and more than twice that of the most efficient agricultural nations in Europe, such as Germany. Yet the average age of Japan's farmers is rising steadily; it increased from 59 years in 1995 to nearly 66 in 2010.
"Two million of our 2.6 million experienced farmers will retire in the next ten years, and successors are in short supply," says Shinjo. "We need to act fast to capture and spread their knowledge."
Agri-informatics
The Keio Agri-infoscience Laboratory uses information technology to capture the methods of the most successful farmers and then applies a software system to assess the data and distribute the best methods to younger farmers. This 'AI Agri-Culture' process offers advice through a decision-making support system. The precious input to the system comes from the wisdom and good practice of a network of exemplary farmers, or takumi ("masters" in Japanese).
The farms of the takumi experts are monitored using sensors to capture data on growing conditions, including temperature, irrigation and water levels, and chemical treatments. These technical data are combined with information on farming decisions and activities throughout the year, which the farmers record on software developed for mobile phones. The Keio researchers then collate and analyze the data and present it for use by less experienced farmers on computer tablets linked to a cloud-based network. The end users can install sensors on their own farms to help them replicate the conditions used by the takumi farmers, while also benefiting from more descriptive guidance.
Trials of this approach have already proved successful in Japan and Thailand. "Mandarin orange farmers have achieved a 20 per cent improvement in fruit quality using our system," reports Shinjo. A trial version of the software will be further evaluated during 2015 and a vendor will provide a commercial version before the end of 2017.
"Eventually, I want to apply our system to underdeveloped countries that already face food crises," says Shinjo. "This is one of the most important issues facing the world. Hopefully, we can help novice farmers to become experts as fast as possible," he adds.
Related links
This article was made for Keio University by Nature Research Custom Media, part of Springer Nature.