A critical regulatory protein offers a potential new opportunity for treating the frequently fatal heart condition cardiac hypertrophy
Published online 6 March 2015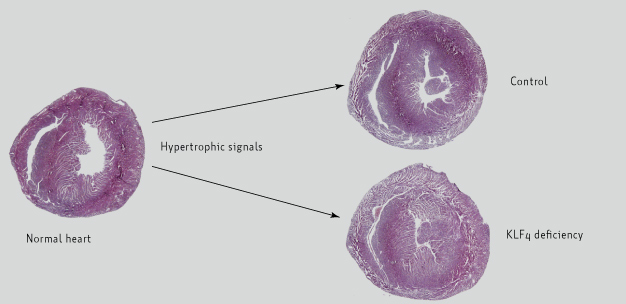 A team of researchers from Keio University has shown that a key transcription factor protein plays a role in regulating cardiac hypertrophy in mouse models of the disease1. The condition is characterized by thickening of the heart muscle and a reduction in the size of the heart's chambers, including the left and right ventricles. It is commonly caused by high blood pressure which, according to statistics by the World Health Organization, afflicts an estimated one billion people worldwide.
The transcription factor Krüppel-like factor 4 (KLF4) plays a crucial role in reading and interpreting the coded messages written in DNA. KLF4 binds directly to DNA to influence the behavior of multiple genes related to cellular differentiation, proliferation, and inflammation. The protein is known to function throughout the body but has been shown to be particularly active in the body's cardiovascular system ― the heart and blood vessels.
Physician and biochemist Tadashi Yoshida and his colleagues at Keio University School of Medicine have been working on the intriguing protein for almost a decade. Most notably, since 2008 they have been exploring and explaining the critical role KLF4 plays in regulating the tough fatty build-up that accrues along the walls of arteries. This build-up is known as atherosclerotic plaque, and it narrows arteries and restricts the flow of oxygen-rich blood, ultimately causing potentially fatal heart attacks and strokes. Yoshida and colleagues, in collaboration with researchers from other institutes, had previously shown in mice that removing the genes responsible for expressing KLF4 accelerates the appearance of this plaque.
In their most recent investigation, Yoshida's team found that in mouse models of cardiac hypertrophy that lacked the Klf4 gene in their cardiac muscle cells, or cardiomyocytes, the heart condition became worse (see image). The researchers further showed that KLF4 plays a role in mediating the antihypertrophic activity of a compound called trichostatin A (TSA) ― TSA repressed the development of cardiac hypertrophy in control mice, but not in the Klf4-deficient mouse models.
These findings suggest that KLF4 is worthy of further investigation as a treatment for cardiac hypertrophy. Moreover, the response of TSA to KLF4 suggests other lines of inquiry. TSA is known to have epigenetic effects on cardiomyocytes, a process that could provide useful insights into the function of KLF4 if further explored. "It is of significant interest to find out how a cardiomyocyte-specific epigenetic modulator regulates cardiac hypertrophy through the regulation of KLF4," says Yoshida.
Reference
1. Yoshida, T., Yamashita, M., Horimai, C. & Hayashi, M. Kruppel-like factor 4 protein regulates isoproterenol-induced cardiac hypertrophy by modulating myocardin expression and activity.
The Journal of Biological Chemistry
289,
26107-26118 (2014). |
article
Related links
This article was made for Keio University by Nature Research Custom Media, part of Springer Nature.