Nanometer-sized quantum dots whose color varies with temperature could be used for thermal sensing and solar protection
Published online 6 March 2015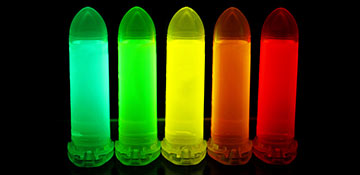 Researchers in Japan have produced quantum dots with sizes of around 1 nanometer by using the tiny pores in microporous silica as a mold1. The color of these quantum dots can be reversibly changed from pale blue to deep green by varying their temperature from 25 to 400 degrees Celsius (see image). This ability to change color with temperature, known as thermochromism, is promising for use in a wide range of applications, including solar protection and thermal indicators.
"One-nanometer and sub-nanometer quantum dots have been little explored because of the difficulty of synthesis," says Hiroaki Imai who led the research with co-workers from Keio University and Tokyo Metropolitan Industrial Technology Research Institute. "Our findings provide a versatile method for producing size-controlled quantum dots in this size range."
Quantum dots are tiny particles of a semiconducting material with diameters generally in the 2 to 10 nanometer range, containing only a few tens of atoms. At these small sizes, quantum mechanical effects become significant. One manifestation of this is that their bandgap ― the energy gap between the valence and conduction bands ― increases with decreasing size.
Various methods have been developed to produce nanoscale quantum dots, but the synthesis of sub-nanoscale quantum dots has proven difficult. Such a method is highly desirable as it is anticipated that most transition-metal oxides will exhibit significant quantum effects only when they are approximately one nanometer or smaller.
Imai's team has demonstrated a versatile and controlled method to produce such quantum dots. The researchers grew copper oxide quantum dots in three porous silica samples with pore diameters of 0.6, 0.9 and 1.7 nanometers. Scanning transmission electron microscopy confirmed that this technique produced quantum dots whose diameters corresponded closely to the pore sizes of the silica templates.
The researchers found that the color of the copper oxide quantum dots depends on their size and varies reversibly with temperature. They attribute the variation of color with temperature to a shift of the bandgap and enhanced coupling between electrons and phonons induced by the confined volumes of the quantum dots.
This strong coupling came as a surprise to the researchers and suggests that quantum dots that are 1 nanometer or smaller in size may harbor other unusual properties.
"Conventional thermochromic materials are generally used at around room temperature due to their poor heat resistance," explains Imai. "The good thermal stability of these size-dependent thermochromic quantum dots means that they could be applied in durable temperature gauges in high-temperature systems."
Reference
Tamaki, H., Watanabe, H., Kamiyama, S., Oaki, Y. & Imai, H. Size-dependent thermochromism through enhanced electron-phonon coupling in 1 nm quantum dots. Angewandte Chemie International Edition 53, 10706-10709 (2014). | article
Related links
This article was made for Keio University by Nature Research Custom Media, part of Springer Nature.